[ad_1]

An energy crisis is looming over a vast swathe of land from the northern states to southern India as low coal supplies across the majority of thermal power plants have set off blackouts in several urban and rural areas where domestic demand for electricity has spiked manifold because of an unusually early and record-shattering heatwave and dry weather.
Household power demand spiralled as India grappled with scorching temperatures this March-April — the hottest since records first started being kept in 1901.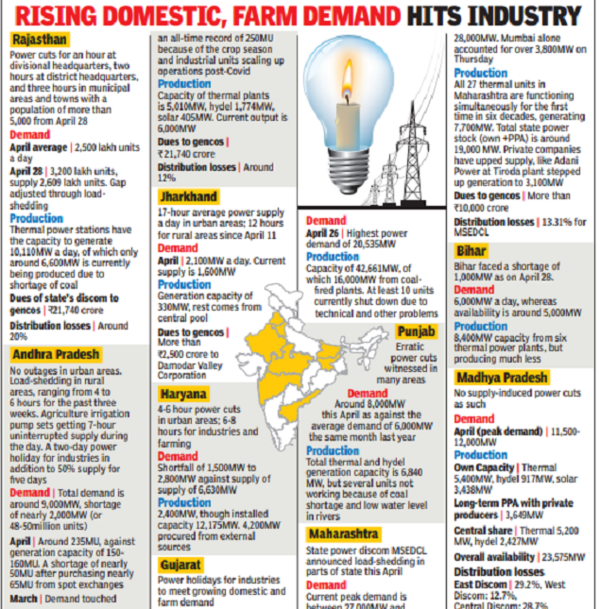 But electricity production dwindled as coal supplies grew perilously low in many states like Haryana, Punjab, Bihar, Jharkhand, Rajasthan, Madhya Pradesh, Gujarat, Maharashtra, and Andhra Pradesh that depend heavily on coal-fired plants for power generation.
The dry weather added to challenges as water levels in rivers depleted to reduce hydropower production. Rajasthan, for instance, has a generating capacity of 10,110MW a day, of which only around 6,600MW is being currently produced because of the coal shortage.
As the shortages stoked fears of widespread blackouts, many states adopted measures like selective power cuts in the countryside to meet the demand in urban and industrial zones.
States like Karnataka have not yet reported any shortfall and domestic and industrial units were getting 22-24 hours of power supply, but farmers have been given only seven hours of electricity a day to run irrigation pumps as a precautionary step. Most states recorded a jump in domestic demand with the rise in temperature and from factories because of renewed efforts to ramp up manufacturing after it was wracked by the pandemic.
Andhra saw 46% rise in demand, compared to 2020. Rural areas of Andhra were seeing four to six hours of evening and nightly power cuts almost regularly for the past three weeks, but farmers were spared. They were getting seven hours of uninterrupted supply during the day.
A two-day power holiday was declared for the industries in addition to cutting supply to 50% of the total requirement for the remaining five days.
Industrial states like Gujarat, Maharashtra and Punjab were forced to make adjustments. Gujarat recorded the highest power demand of 20,535MW on April 26, according to Western Region Load Dispatch Centre (WRLDC). With thermal plants operating at 45% capacity, the state has been forced to purchase power from the open market at a steep price of Rs 12 per unit.
This is set to crimp margins of businesses and shoot up power bills of households. On March 31, a weekly staggered holiday was issued to industries that run continuously. Punjab saw a 35% increase in its power demand — 8,000MW in April as against 6,000MW during the same period last year.
Punjab's power utility PSPCL has been buying electricity from open sources at Rs 10.7 a unit as it had to shut down its thermal units because of the coal shortage.
In Maharashtra, the peak demand stood between 27,000MW and 28,000MW in April, higher than any previous summer months. "There's load-shedding in 15 states, but we succeeded in ensuring that the peak demand was met without power cuts," said Vijay Singhal, managing director of state discom MSEDCL.
The state stepped up power production with all 27 thermal units functioning simultaneously for the first time in six decades, producing 7,700 MW.
Private firms chipped in too, such as Adani Power's Tiroda plant increased its production to nearly 100%.
Yet, the state saw a shortfall of around 2,500MW and outages were recorded in some areas. Chhattisgarh, the principal coal supplier of India, has not reported any power cuts, but neighbouring Jharkhand's urban areas has seen load-shedding for 17 hours a day since April 11 as the state's average daily demand increased to 2,100MW, while supply stood at 1,600MW.Jharkhand's own plants were not operating at optimum level because of the coal shortage.
Similarly, Bihar's shortfall on April 28 was 1,000MW. State energy minister Bijendra Prasad Yadav said the situation will improve when one unit of Nabinagar thermal plant starts operating.


[ad_2]

Source link