[ad_1]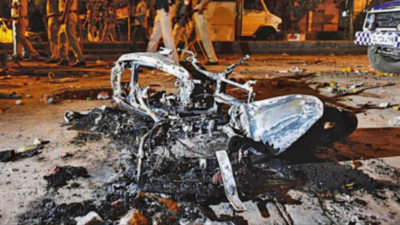 Clashes started during a Hanuman Jayanti procession in Jahangirpuri
NEW DELHI: After clashes erupted in Jahangirpuri on Saturday evening during a Hanuman Jayanti procession, police as well as paramilitary forces were deployed to maintain peace in the area.
"We are trying to create a peaceful environment by holding talks with peace committees and appeal to everyone to maintain peace. The situation is under control. We are also patrolling the area constantly and advising people not to believe in any rumours," said Dependra Pathak, special commissioner of police (law & order).
According to police, the shobha yatra is an yearly affair and is held with prior permission. Even during the day, two other processions were carried out and no untoward incident had occurred. Force was deployed even during the yatra in the evening, which was being carried out by members of the Bajrang Dal. The first call regarding stonepelting was around 5.45pm. Police officials on the ground tried to control the situation, but it escalated rapidly.
When TOI visited the spot, it found a large number of bricks, smashed bottles, glasses, a burnt scooter and damaged vehicles on the road.
Cops were deployed in large numbers all along the road for around a kilometre. Senior officials were also carrying out area domination patrolling and asking people to stay indoors. According to them, the situation turned ugly when the procession was passing in front of a mosque.
A 16-year-old boy, Alamin, who was hit by a stone, said, "I was going towards the mosque to offer prayers when I saw people clashing with each other. Out of nowhere, a stone hit me. My uncle, Noor Alam (22), was also with me. We just ran for help. We all have been living here peacefully in G block and even people of other communities stay in our lane. Nothing like this happened even when the procession was carried out earlier in the day". Alam added that the procession was taken out every year and no incident had ever happened before.
Ajay Kumar, a resident of C block, said he was at his friend's house when he heard of the violence. "My parents were alone and I rushed back home. My taxi was damaged. I, too, was hurt after a brick was hurled at me. When I reached near the block gate, I couldn't enter as the residents had chained it, owing to the fear of being attacked. I somehow managed to reach home," said Kumar. His mother Munni Devi who tied the chain stated that the men had swords, bricks, stones and were even pelting stones from the roof.
Several videos went viral on social media, showing groups chanting religious slogans of both communities . In some videos, people can be seen throwing stones from roofs. Most people in the area said the incident was a reminder of what happened during the northeast Delhi riots.
FOLLOW US ON SOCIAL MEDIA


[ad_2]

Source link