Kemono are just a fancy name for Pokemon.
The hunting action game Wild Hearts, which was a surprise hit for EA and Koei Tecmo and is often compared to Monster Hunter, has been entertaining fans of the genre ever since the trial version came out a few days before the full game.
Wild Hearts also seems like it has a lot in common with recent mainline Pokemon games, especially because they are both based on myths. In Wild Hearts, a few monsters that are both big and small are called Kemono. These monsters are divided into two groups: small and giant. Even more, they look a lot like a few Pocket Monsters from different generations of the show.
Lavaback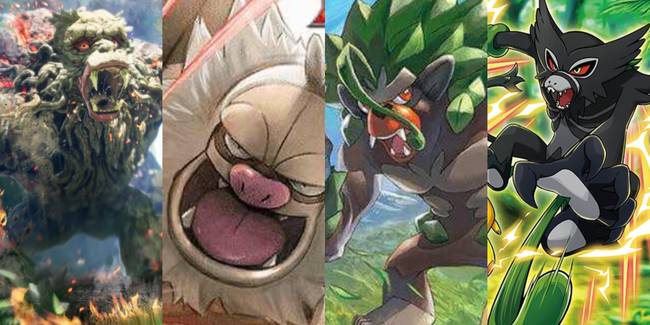 The Lavaback, a Kemono with the fire element that looks like a baboon and has the ability to stretch its arms, has a lot in common with other Pokemon that look like monkeys. Its fire element is similar to the fire type of the Infernape line from the fourth generation of Pokemon, but it looks more like Slaking from the third generation and Rillaboom and Zarude from the eighth generation.
Just like the Lavaback, these three Pokemon are all based on different types of apes. Slaking and Rillaboom are partly based on gorillas, and Zarude is based on black lemurs, baboons, and mandrills. The Lavaback and its Cobalt variant also seem to be based on the mandrill and lavaback.
Earthbreaker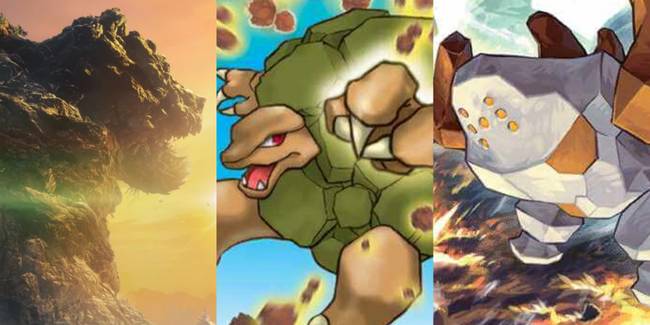 The Earthbreaker is an important giant Kemono in the story of Wild Hearts. It looks mostly like rock and is as big as a bear. So, it looks a bit like the legendary Pokemon Golem from the first generation and Regirock from the third generation.
Both Golem and Regirock have bodies mostly made of solid rock. Golem is a Rock and Ground-type Pokemon, and Regirock is just a Rock-type Pokemon. Neither of these Pokemon is also a mammal, like Earthbreaker, though. Golems have rock hides that can withstand dynamite explosions. Because of this, older Golems don't lose their hides and instead grow moss on them. This is similar to how the Earthbreaker is strong and how plants grow on its body.
Fumebeak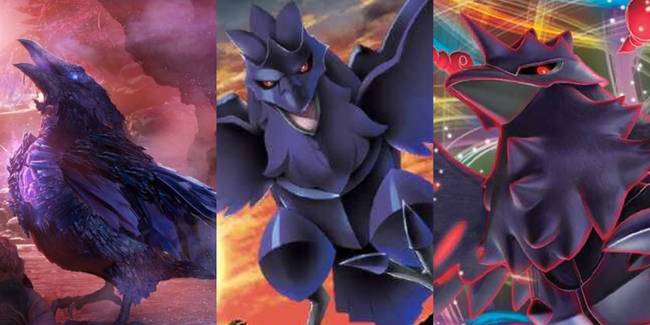 The Fumebeak is a poison-throwing black bird that is often found in Harugasumi Way. It looks a lot like the Steel and Flying-type Pokemon Corviknight and its Gigantamax form, which are both from the eighth generation. Corviknight's normal form looks like Fumebeak's normal form, while its Gigantamax form looks more like Fumebeak's angry form because both have glowing marks on their bodies.
Even though they are similar, Corviknight wouldn't get sick from Fumebeak's poison because it is a Steel-type Pokemon, which can't get sick from poison. Strangely, the Fumebeak's own toxic vapor seems to hurt it, and it sometimes looks like it hurts when it spreads it.
Deathstalker
The Deathstalker is a huge Kemono that looks like a wolf. It is the first huge Kemono you meet in Wild Hearts. It also looks like the Midday and Dusk forms of Lycanroc from the seventh generation and the legendary hero forms of Zacian and Zamazenta from the eighth generation.
All of these Pokemon are based on wolves, just like the Deathstalker. Lycanroc's different forms are based on Hokkaido Wolves, while Zacian and Zamazenta are based on both real and mythical wolves. The Deathstalker may be based on the Hokkaido Wolves because it can control ice, but it looks more like the hero duo.
Golden Tempest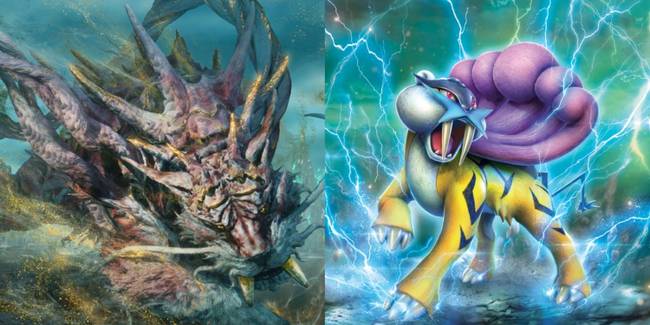 The Golden Tempest is a fierce Kemono that looks like a saber-toothed tiger and lives in the Golden Sea area of Wild Hearts. It looks a lot like Raikou, an Electric-type Legendary Beast Pokemon from the second generation. These amazing saber-toothed animals are known for their lightning-fast speed and the fact that they can control some weather events.
The Golden Tempest can call up strong winds that can push back even the most skilled hunters. When it gets angry, the winds get even stronger. Raikou also carries around rainclouds that let it call up lightning whenever it wants. It can also use its Volt Absorb ability to heal itself by taking in electricity.
Icebloom Hound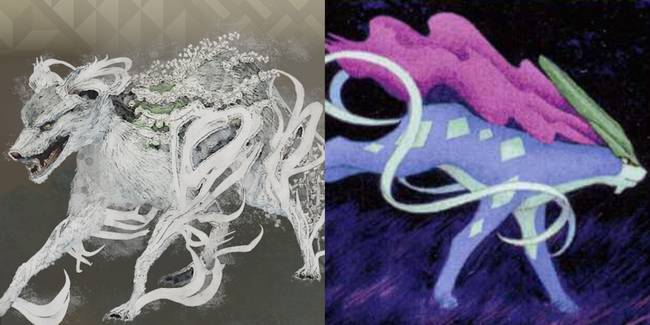 The Icebloom Hound is a small Kemono that can be found in the Wild Hearts area near Fuyufusagi Fort. It also looks like a more realistic version of the legendary Pokemon Suicune from the second generation. Suicune is a pure Water-type Pokemon, but it naturally learns a few moves that are related to Ice. It is also linked to the north wind, can clean any water it touches, and tries to stay away from people as much as possible.
Icebloom Hounds like to live in groups, and if a bigger Kemono they steal food from shows signs of weakness, they will kill it. Suicune and Icebloom Hounds couldn't be more different in terms of their habits and skills, but they look similar because they are both based on dogs.
Goldshard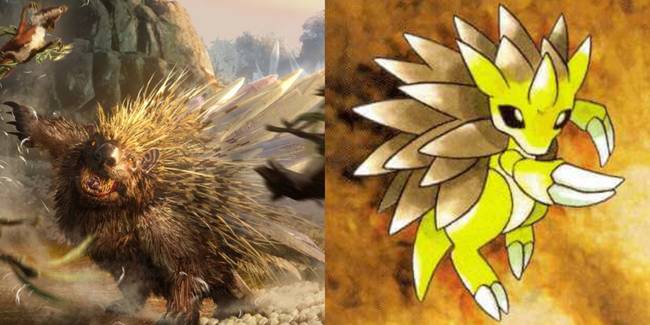 The Goldshard is a big Kemono that lives in the Akikure Canyon area of Wild Hearts. It looks like the Sandslash from the first generation of Pokemon and the Alolan version of it from the seventh generation. Both seem to be based on porcupines because they are both covered in spikes and have similar color schemes. In fact, because of how it is made, the Goldshard is almost like a mix of all the different types of Sandslash from different areas in 8 Ball Pool game.
The Goldshard has golden brown spines like Sandslash, but it can crystallize them and shoot them out. This gives them a bluish-white color and makes them look more like the ice-covered steel spines of Alolan Sandslash.
Ragetail Pup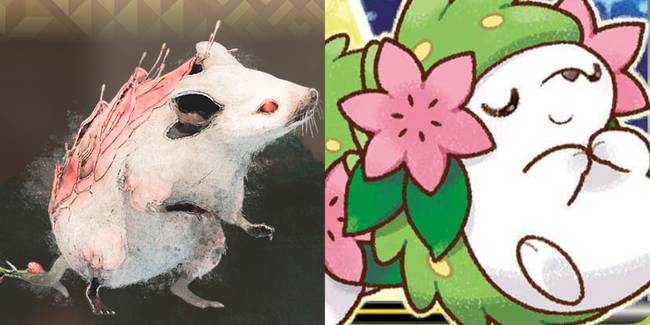 Ragetail Pups, the young form of the Ragetail, is one of the first Kemono you meet in Wild Hearts. These flowery rodents look like the Land Forme of Shaymin, which is a mythical fourth-generation Grass-type Pokemon called the Gratitude Pokemon.
Shaymin is not a rat, but more like a hedgehog. It can change into its Sky Forme when exposed to a Gracidea Flower, which gives it a secondary Flying-type and lets it fly. Adult Ragetails and Shaymin are both related to gratitude in some way. Ragetail Pups are said to eat as much food as a house every day, and only one out of every hundred of them grows up to be an adult.